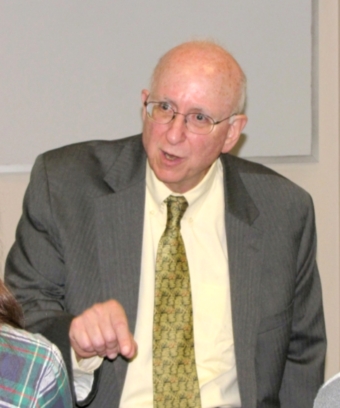 As I write this in June 2014, I'm 69. I semi-retired for the first time in early 2001, then went back to work after 9/11, and for a half-dozen years thereafter I worked as hard as ever, on everything from SARS to oil sands to climate change. I started semi-retiring again in 2008. This time it stuck, albeit with occasional backsliding.
I still say yes to work if I feel so inclined: when the work looks more-than-ordinarily interesting, important, or profitable (ideally at least two out of three); when the work is for clients I've had for a long time and enjoy working with; when the work can be done at home or brings me to places I want to visit. But I'm working less and less every year.
So I am thinking more than ever about trying to institutionalize my approach to risk communication so it will still be around after I'm not. If I were a good manager, I'd have founded an organization that would outlive me. But how does a sole practitioner leave a legacy? There's Jody – my wife and colleague Dr. Jody Lanard – but I'm hoping she won't keep working forever either.
I have three ideas. I've had them for a while, and I haven't managed to make them happen yet. But I haven't given up yet either.
1. Teach a master class.
There are thousands of people around the world who have gone through a one-day or two-day risk communication seminar with me. One of my great joys these days is to run into someone who participated in such a seminar years ago and wants to tell me how he or she has been using it ever since. But since leaving academic life in 1990, I haven't had a chance to teach anything much longer than a day or two … far less to work with graduate students for years at a time. If I were a Renaissance painter I'd have taken on some apprentices – but I never figured out how to make that fit with client confidentiality concerns and endless travel.
A master class seems like a good solution.
My original plan was to identify ten or so people – ideally at least a generation younger than I am – willing to commit to work with me (and each other) for a week or two each year for five years. As I wrote on the first version of this "Legacy" webpage in July 2006:
Most of the time will be spent analyzing risk communication case studies, trying to figure out what should be done (or what should have been done). Between these annual sessions we will stay in touch by email, by visits when feasible, and perhaps on a dedicated website. We might also want to write some joint articles, collectively or in various combinations. I have two goals: to share everything I know, and to build a community of risk communicators who will hang together with me and then without me. (Of course I expect to learn from the group as well.)
The idea morphed a bit when I started implementing it in 2008. It turned into 30–40 people, for one week a year, for a minimum of two years. I figured if I could keep that going for at least five years, adding new people as veterans decided they'd had enough, I'd leave behind a significant group of risk communicators whom I had been able to touch more than glancingly.
We were good to go for Year One – scheduled for June 2009 – when the economy collapsed. Worried that those who had signed up might bail, or (worse) that they might come because they'd promised while wishing they could bail, I surveyed the group and decided to postpone.
Five years later, the master class is still on hold. I'm maintaining a list of people who want to be informed if and when I decide to relaunch it. If you're not on the list and you'd like to be, please write to me at peter@psandman.com. If you're interested in sponsoring the master class, handling the marketing and logistics so all I have to do is teach it, please write to me at peter@psandman.com.
2. Hand over the website.
I want to keep adding to this website for the foreseeable future. But I'm already adding less than I used to, and one way or another, eventually I will stop. By then I'd like the website to be in the hands of an organization that will guarantee to maintain it in perpetuity, and maybe even add to it themselves.
That will probably be a college or university – presumably one of the dozen or so that have developed risk communication curricula of their own. (I can't quite imagine the website being taken over by a corporation, government agency, or NGO instead … but I will listen to any proposal.) Ideally, the website's new owners would take charge while I am still producing, so the website can incorporate their risk communication work as well as mine, and their reactions to my work, and my reactions to theirs. After I am no longer producing, they'll take it in whatever new directions seem appropriate – but they'll be committed to keep my stuff up there too.
I originally planned to endow the website with my own money. That's still possible, but I have been strongly advised to make sure the new owners have made a real, long-term commitment, not just accepted a gift they're not sure they really want. So my preference is an organization willing to commit some resources of its own – some riskcomm resources and some IT resources. If I can't find such an organization, my fallback is to endow a private foundation to maintain the website after I'm gone.
I have had serious negotiations with two major universities that responded to earlier versions of this webpage with expressions of interest. The first round ended when the most interested professor left for another position. The second round is ongoing, but the university I'm talking to has raised a number of thorny issues, and isn't moving quickly to resolve them. Maybe the same issues would arise with any potential website host. Or maybe I'll do better with a different organization.
If your organization might be interested in hosting, maintaining, and possibly expanding this website, please write to me at peter@psandman.com.
3. Become somebody's riskcomm guru.
Most public relations agencies and management consulting firms do some risk communication. Some do a great deal of risk communication. I've worked with a lot of these organizations over the years – a shared client here, an in-house training program there. But I have never forged a real partnership with one such organization. In the early years I didn't want to, preferring to play the field. Now I think maybe I want to.
I would love to work out an arrangement whereby my approach to risk communication becomes a key tool (and a competitive advantage) in some PR agency's or consulting firm's toolkit. I train your people, and stand ready to advise you and your clients in sticky situations as needed. What's known as my approach gets to be known as your approach. Not that we'd copyright or trademark anything. I want it to be everybody's approach. But I figure now would be a good time to try to institutionalize it as somebody's approach.
If your agency or firm might want to negotiate such a partnership, please write to me at peter@psandman.com.
Copyright © 2014 by Peter M. Sandman